Merging
By clicking the check-boxes to the left of each completed coverage Execution in the Project View, you can select multiple coverage files to merge by clicking the Merge button.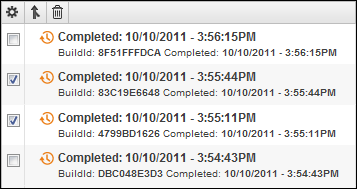 After merging, the files will be collapsed in the view and identified with the Merge icon. You can still view the executions individually by expanding the tree view of the merged file.
You can rename any execution by clicking on the title and selecting the edit icon. View the coverage logs (if any), by clicking on an execution and then clicking the log icon to display.
Remember that Logging options are set on the General Settings tab of the Edit Project dialog, using the "Logging Level" drop-down box.